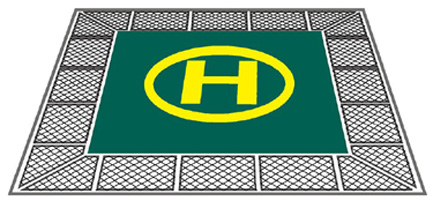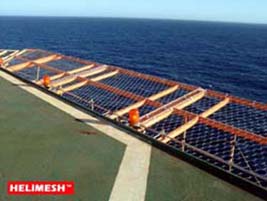 What is HELiMESH™? ( PDF Presentation click here )

HELiMESH™ is a stainless steel safety net system specifically designed for offshore helicopter landing deck perimeter structures.
(Note: HELiMESH™ is not suitable for anti-skid helicopter landing deck net applications).

The HELiMESH™ Advantage

Manufactured from 316 Stainless Steel Wire Cable & Tube Frame, HELiMESH™ is extremely resistant to corrosion, even in the harshest offshore conditions. Unlike other safety nets made from synthetic rope / webbing or PVC coated fencing mesh, HELiMESH™ will not burn or melt and will not deteriorate with exposure to UV rays, salt spray, etc. Given it's long-life expectancy, HELiMESH™ will dispense with repeated costly installations of inferior safety net systems and should outlast the life span of the facility HELiMESH™ safety net panels are light-weight, pre-fabricated in any shape or size ready to install, and can be installed without scaffolding. All materials and tools required for installation are supplied with delivery of the safety net panels.

Quality

In selecting HELiMESH™ you can be guaranteed of the highest quality products and materials. Extensive material testing by third-party PMI (Positive Materials Identification) via spectrometer is undertaken with every project and verifies manufacturer's mill and material certificates. All relevant documentation and certificates are compiled in a job specific MDR (Manufacturer's Data Report) and supplied on completion of the job.

Standards

HELiMESH™ has been subjected to rigorous drop / impact testing under the supervision of DNV (Det Norske Veritas) and exceeds the testing requirements of British CAA CAP437 (latest release December 2008) Offshore Helicopter Landing Areas, Safety Nets and Oil & Gas UK - Helideck Perimeter Safety Nets - Issue 2 - March 2008.

Options

HELiMESH™ can be manufactured with either 316 stainless steel or copper ferrules (joiners & terminations) depending on client preference. HELiMESH™ is normally installed by the facility's helideck crew, however a specialist crew can also be provided if required or preferred.
Back to our comprehensive manufacturers list - Click here